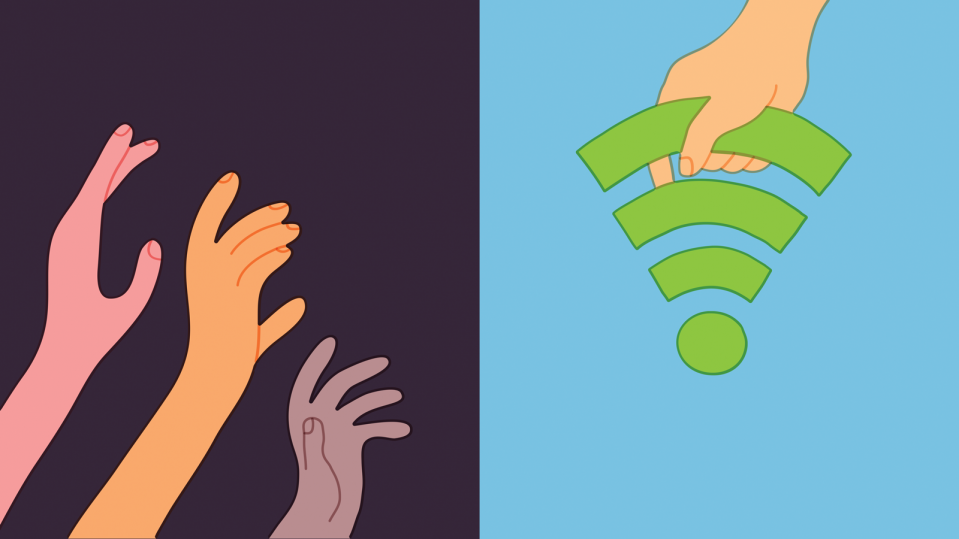 "While the internet is an important resource in efforts to stay informed and proceed with daily lives during the COVID-19 pandemic, these online approaches to reducing risk are not available to everyone in the same way. There are several challenges, Pakistan is confronting at the domestic front, however a less obvious, yet nonetheless an important, issue that the digital divide is complicating efforts to respond to the challenge of pandemic government and society face collectively. Indeed, a private sector, and especially Telecom, should come forward, during this pandemic, and finds ways to bridge the digital divide as quickly as possible through reliable and cost-effective (subsidize, affordable) internet and broadband services, which became a matter of life and death in Pakistan"
Like many other developing countries, the majority of Pakistani households do not have physical access to the internet, primarily due to low income and poverty. As per recent research of Digital Rights Foundation (2020)[i], internet access in Pakistan stands at around 35 percent, with 78 million broadband and 76 million mobile internet (3/4G) connections. According to the Inclusive Internet Index 2019[ii], Pakistan fell into the last quartile of index countries, ranking 76 out of a 100; particularly low on indicators pertaining to affordability[iii]. the broadband internet is not affordable for large segments of the population and many can only afford limited mobile internet packages. As more services move from offline to digital, it is evident that a new inequality trend-the digital gap is emerging, which can exacerbate the pandemic and human health situation, since a significant disadvantage(s) arises when it comes to accessing the real-time information people need to respond to COVID-19. This is a problem not only for people without broadband access, but also for society as a whole as we struggle to flatten the COVID-19 curve.
In Pakistan, besides the structural inequalities such as class, gender, location, ability, and ethnicity, the internet access is undercut by its affordability, and severe economic pressure during the pandemic, as more and more people are losing jobs, calling for an immediate response from donors, government and particularly service providers, the Telecom sector.
While, several other organizations, are trying to support marginalized communities, teachers, and students, I am curious whether the telecom sector has any plan to give relief to the people in the time of pandemic? The average cost of call and internet is neither subsidized nor any free data packages are announced via Corporate Social Responsibility. Here are some benefits of providing free access to the internet during the time of pandemic:
1. Reduce informational asymmetries between service providers and people in need (it includes NGOs, public sector organizations, and academic institutions)
2. Speed up or facilitating registration and data acquisition process for social safety nets and other relief operations
3. Help to connect with families for overseas relatives, students and provides social cushioning and mental relief in the time of panic and when social and mainstream media is creating sensitization.
4. Reduce internet poverty which may result in reducing informational blockages and/digital inequality, consequently improve families social and economic conditions. Because, freelancers and others have access to such internet facilities and they can work from home as well as reduce pressures on employers.
5. It also helps telecom by increasing their demand, and may enhance their profits as a proportion of society may opt for companies that have better and low-cost internet and call services, making them have more customers. Thus, we urge the Telco to come up to support and take a lead to reduce digital inequality and help communities to fight against the Corona virus pandemic.
However, the Government besides other measures and policy response, must also enable Telco to perform its duties unrestricted, ensure that the Pakistan Telecommunications Authority (PTA) assists and facilitate the Telco to increase the bandwidth capacity in Pakistan as a whole, but significantly, in the marginalize areas of Baluchistan, Federally administrated tribal areas and Gilgit-Baltistan. It also is imperative for government and Telco to ensure citizen's privacy and Cyberthreats, and reduce vulnerable towards unreliable internet connections at a time when the internet is tied to essential services. Last but not least, the government and service providers should also ensure rapid response towards establishing and revisiting the existing infrastructure, since it may lead to slow-downs or malfunction during this increasing demand, and flow of data and information.

---
[1] Program Director, M&S Research Hub, Germany

---
[i] Joint Statement by Digital Rights Foundation and BoloBhi: The Digital Gap During the COVID-19 Pandemic is Exasperating, March 31, 2020, Inequalitieshttps://digitalrightsfoundation.pk/joint-statement-by-digital-rights-foundation-and-bolobhi-the-digital-gap-during-the-covid-19-pandemic-is-exasperating-inequalities/
[ii] Inclusive Internet Index (2019). Retrieved at https://theinclusiveinternet.eiu.com/
Please follow and like us: